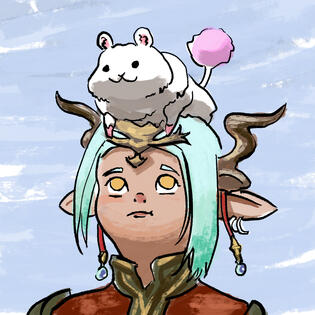 Coehlus
Portraiture | Character Illustration | Environments
I am a freelance artist specializing in portraits, character illustration, and environments. I primarily work in digital media or acrylic paints.

If you would like to commission me, please read the Pricing and Terms of Service pages for more information. You can get in touch with me through any of my social media links below or email me at [email protected] for any inquiries.
---
---
Portfolio
For my full portfolio including all environment art, please visit my portfolio-focused webpage at coehlus-art.carrd.co.
---
---
Pricing
Please read my Terms of Service BEFORE commissioning!
Note: The prices below are the minimum price quotes for each category. Pricing may increase based on complexity.

Some factors that may increase your quote:

Elaborate backgroundsComplex details (e.g. horns, tattoos, elaborate clothing)Additional characters (+50% of base price per subject)
If you have any questions or would like to commission me, feel free to contact me via my contact form or at any of the social media links below.
| Style | Bust | Half-body | Full-body | + Color |
| --- | --- | --- | --- | --- |
| Sketch | $15 | $25 | $40 | +$5 |
| Clean Lines | $40 | $60 | $80 | +$10 |
| Fully Rendered | $70 | $100 | $140 | N/A |
---
Sample artwork
Tier 1: Sketch
Loose Sketch (Monochrome)
Starting price: $15
A conceptual drawing with loose, gestural lines. The main elements of the scene are depicted without additional refinements. The focus of a sketch is to visualize the basic details of a character or composition.
Loose Sketch (Color)
Pricing: Sketch + $5
Tier 2: Refined
Clean Lines
Starting price: $40
A polished line drawing that includes all details of the character and background (if applicable).
Flat Color
Pricing: Lines +$10
Flat color blocking is added to a line drawing. Shading is not included at this level.
Tier 3: Fully Rendered
Starting price: $70
A fully rendered realistic painting. Emphasis will be put on the character's face as well as any fine details that are important to the scene.
---
---
Terms of Service
By commissioning me, you automatically accept my Terms of Service. If you have any questions or concerns, please feel free to contact me at [email protected] or via my contact form.
Copyright
I, the artist, retain full commercial and moral rights to the original artwork. This includes, but is not limited to, self promotion, advertisement, and portfolio work.All commissioned work is for the client's personal use only.Commercial redistribution of my artwork is prohibited.The client is permitted to repost my artwork online as long as credit is given, a link to my website or social media (Instagram/Artstation/Tumblr) is provided, and my watermark/signature is intact.
The client may not:
Use my artwork for personal promotion.Modify or remove my watermark/signature.Significantly alter the artwork without my permission.Trace or repurpose the artwork.Claim the artwork as their own.
Payment
All payments are calculated in USD and are currently taken through Paypal only.A 50% deposit is required upfront. I will not begin working on a commission until payment is received.
Cancellation and refunds
| State of Completion | Refund % |
| --- | --- |
| Work not started | 100% |
| Sketch not approved | 50% |
| Sketch already approved | 0% |
I reserve the right to deny or cancel a commission at any time. If I, the artist, cancel the commission at any state, the client will receive a full refund.If the commission is cancelled by me or the client before work has started, the client will receive a full refund.If the client does not contact me for 30 days, the commission will be cancelled with no refund.No refunds will be given for completed or nearly completed commissions or (when applicable) after the initial sketch has been approved by the client.
Workflow
Time frame
Commissions will be completed within 1-3 weeks of receiving payment. Time spent waiting on client response (e.g. needing sketch approval) is not counted toward this deadline. A more accurate estimate of completion time will be given at the time of commission.
What to include with your commission request
REQUIRED:
One reference image (minimum).Image references of any unique/specific details (e.g. clothing, weapons, jewelry, fur color patterns, horns, tails).
OPTIONAL:
Description of the desired pose and atmosphere of the artwork.Brief description of the character's mood or personality that you want to be conveyed in the artwork.Image size/format preferences. By default, the artwork will be roughly A4 sized (8.5" x 11") and sent as a .JPG file at 300 DPI.
Sketch Approval Process
After I have received the first payment, you will receive a series of iterative sketches to select from for me to develop further. You can also request any major changes that need to be made.Any major changes to the artwork, such as pose, angle, or compositional placement, must take place at this point.No further work will be completed until the sketch is approved by the client. Time spent waiting for client approval will not count toward the artist's deadline for the completed work.
Final Product
You will receive a watermarked, low resolution copy of the final product.After I receive the final payment, I will send the artwork without the watermark.You can request minor changes to the final product. Minor changes include small anatomical adjustments (e.g. shape/size of facial features), colors and contrast, and fine details such as designs on clothing or accessories.
---